date: 04/01/2016-06/01/2016
Dragons in a new way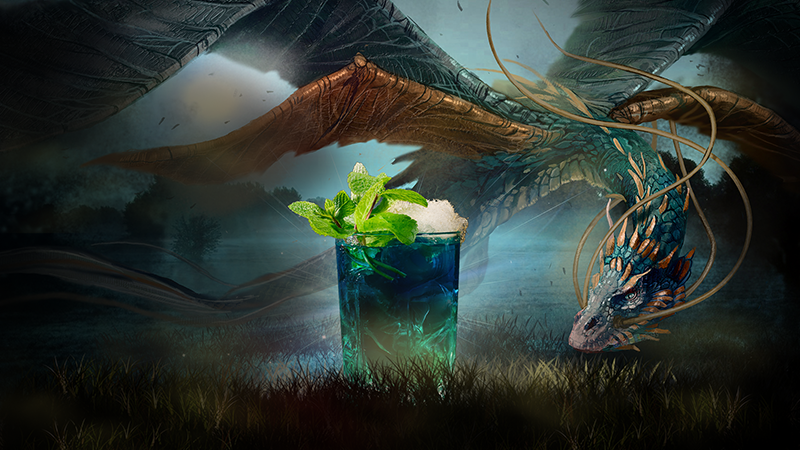 Bitters that are made following national recipes, make up a significant portion of "Bulbash Plant" portfolio. Nowadays barmen do mind popular homemade liqueurs and local drinks. Nevertheless, young audience rarely pay attention to "overtraditional" product because it is associated with something old, incomprehensible. To change this attitude, barmen who work in the capital have created a number of cocktails with the national colour. First cocktails appeared created on the image of characters of national folklore - Dragons within the project "Dragons in a new way". Nine drinks were invented with three winners selected according to the results of online voting and presentations for journalists and bloggers.
visit site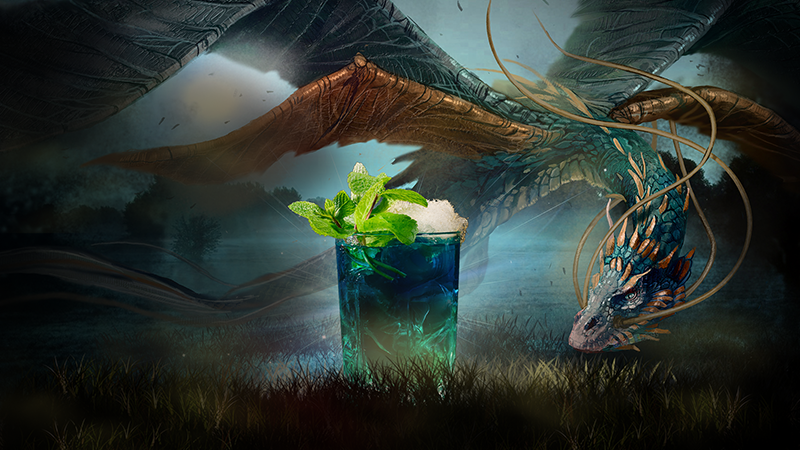 Services
PR Support
Promotional Website
Campaign tasks
To change of the perception of "Bulbash" bitters from "elderly and unfashionable" to "authentic and trendy".
To build a culture of strong alcoholic beverages consumption.
Target audience
Men and women from 21 to 40 years who enjoy spending time in cafes, bars, willing to experiment and prepare their own cocktails, not indifferent to Belarusian culture and traditions.
Creative idea
To use the symbol of Belarus which is gaining popularity: to create a series of cocktails inspired by the Belarusian folklore characters – Dragons. Dragons were described many times by classics of Belarusian literature in their works, ethnographers know a lot of stories and legends associated with these fantastic characters.
It's a beautiful image that will help link the traditions of the past with modern bar culture: the dragon is so charismatic that undoubtedly will be able to claim the role of Belarusian national cocktail!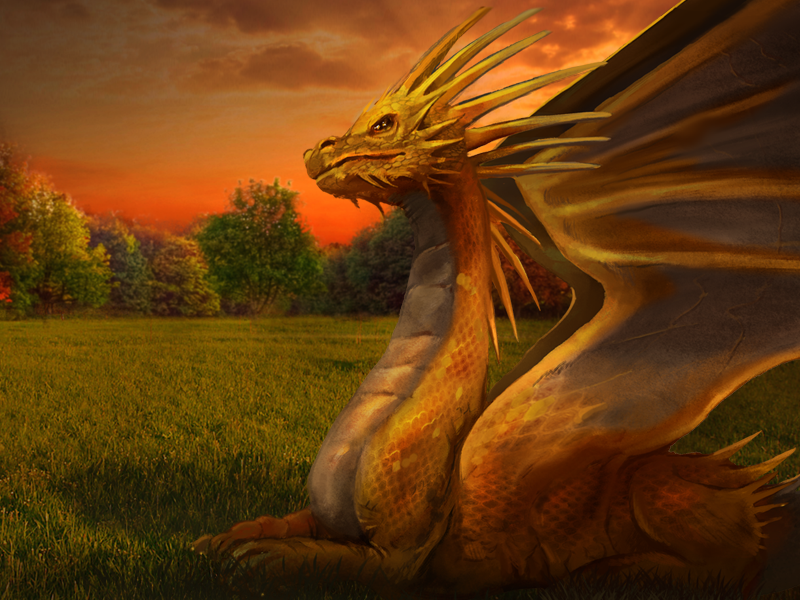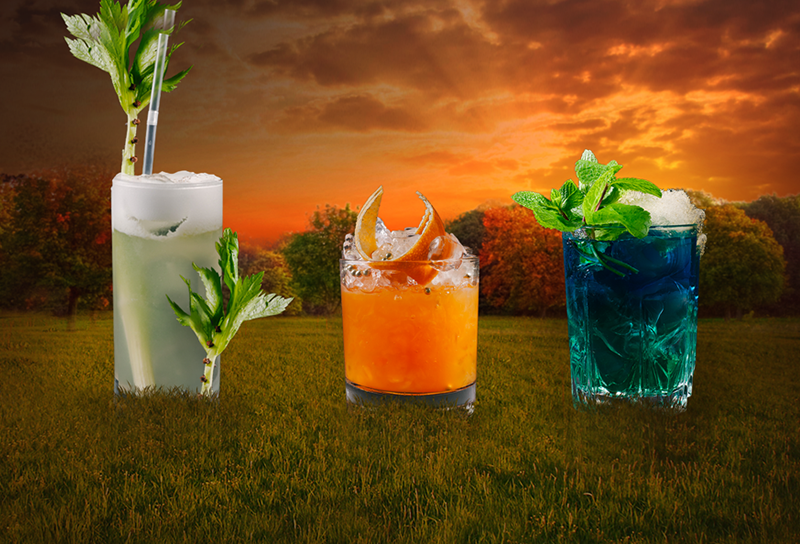 Campaign structure
Creating cocktails by professional bartenders
Promosite with online voting
Media support of the promosite
PR-support of the project
Events for the media and bloggers with tasting and voting for the best cocktail
POSM for retail and restaurants with pictures and recipes of three cocktail- finalists
Realization
STAGE I - REALIZATION – COCKTAILS CREATION
Leading Belarusian barmen have been involved into the process of creation:
Eugene Kuznetsov, Vasily Sapunkov Mikhail Konovalenko, Evgeny Rogov – the founders and teachers of bartending school Splash & Dash. 9 cocktails based on Bulbash bitters were created: "Linden with honey", "Bison", "Cranberry", "Honey Pepper", "On birch buds". Recipes were created so that further they could be adapted for home cooking. Cocktails were divided into 3 elements: fire, water, air. Inspired by the image of a dragon, Michael Konovalenko created cocktails "treasure Dragon", "Spiny Dragon", "Misty Dragon", Evgeny Rogov – "Gloomy Dragon", "Air Dragon", "Four-headed Dragon", and Vasily Sapunkov – "Swamp Dragon" "Snow Dragon" and "Dragon Thorntail". Accompanying ingredients were the variety of components that can reflect the character of the Dragon. For example, Tabasco, cucumber, egg white ("Thorntail"), apricot jam and carrot juice ("Treasure"), mint and birch juice (" Air Dragon").
One of the participants of the project "Dragons in a new way", the chief barman of "Hooligan" Eugene Kuznetsov says: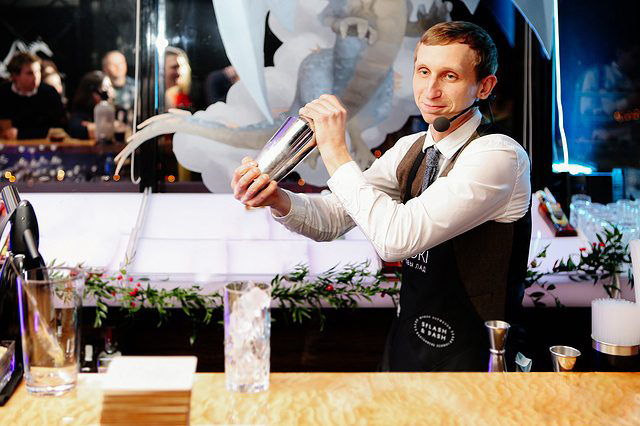 I am glad that the barmen were involved into the creation of national drinks because what matters most is the customers and we're aware of their tastes and preferences. In recent years I have traveled across all belarussian regions and I can definately say that the level of the cocktail culture in the country improved considerably. And today we can notice a real positive trend – understanding of the drinking culture and of course national drinks importance.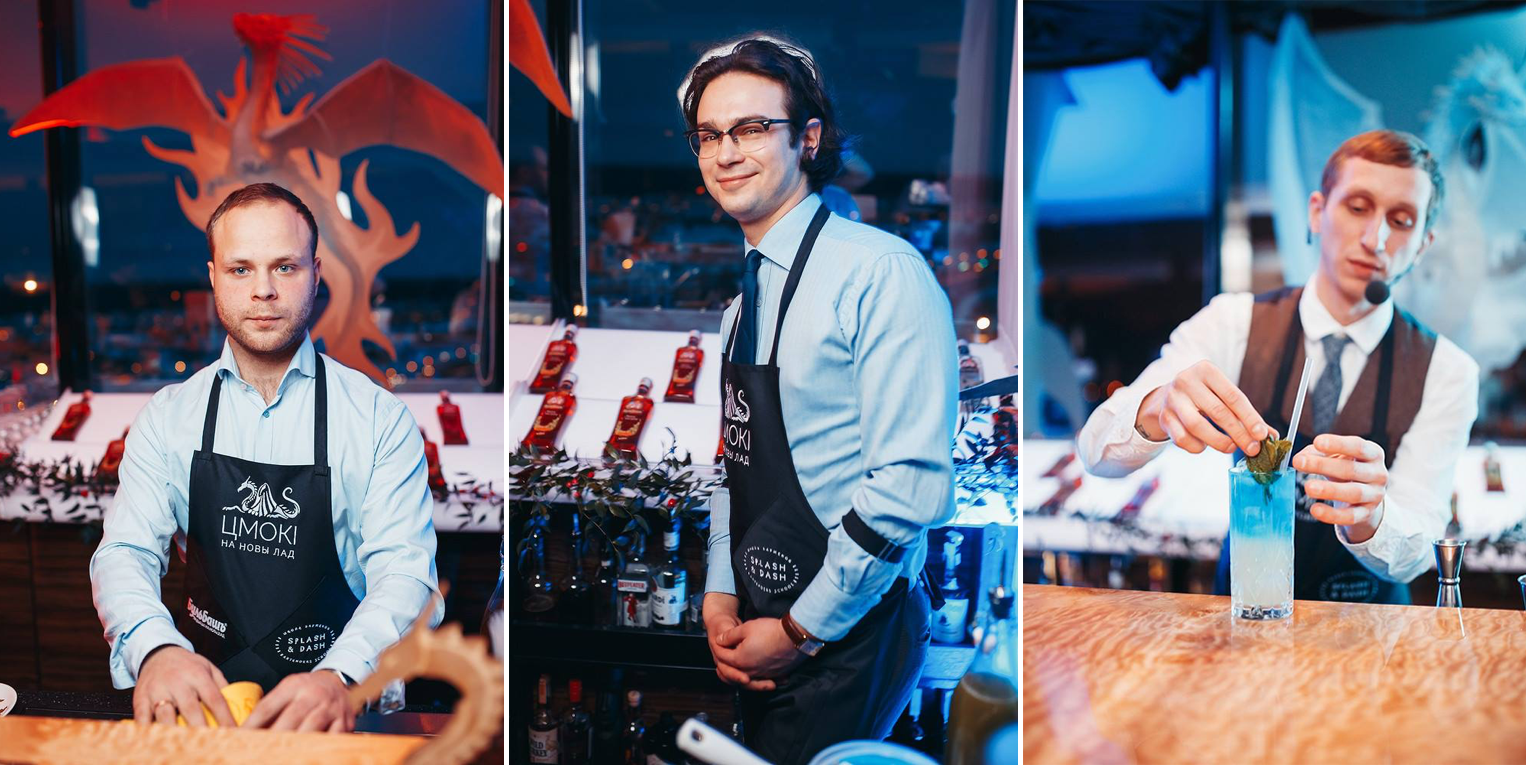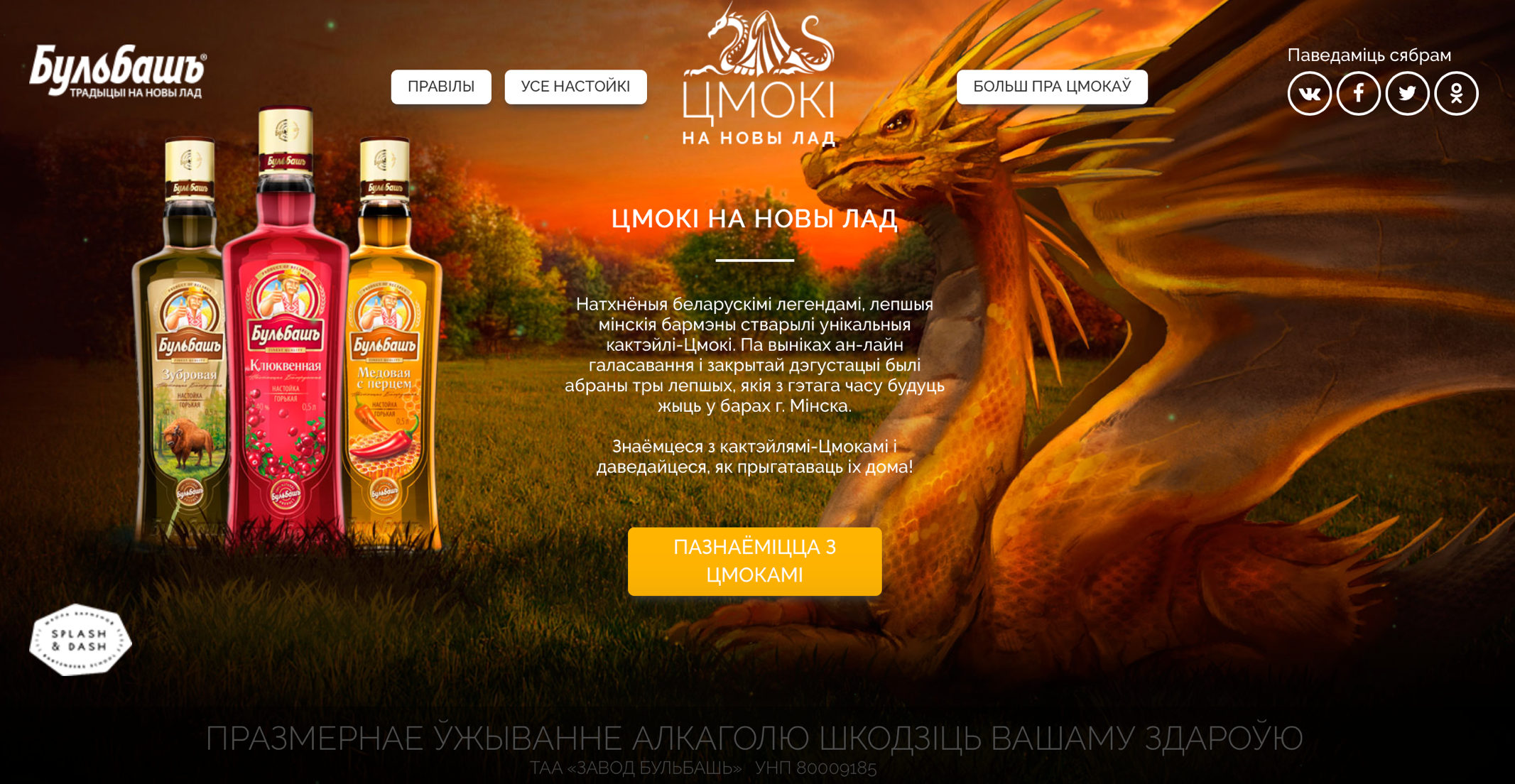 STAGE II – PROMOSITE
http://tsmoki.bulbash.com promosite was created to announce the cocktail project. There it was possible to get acquainted with the Dragons – study detailed cocktails recipes, their composition, experience the real atmosphere thanks to the unique illustrations created for each cocktail individually. Also website visitors could take part in voting arranged by means of share mechanics. They had to share the most favorite cocktail in the social networks. The main drama was based on the idea that the Dragon "lives" until he is remembered (as the traditions are). Those cocktails with the majority of votes were supposed to "live" in Minsk bars, and those who lose – to "die".
Besides being able to save the Dragon, everyone could take part in the raffle of tasting invitations to conduct a decisive selection. Each website visitor could vote only for one cocktail.
Thereafter, optionally interested participants shared their Dragon in social network and left their phone number in order to participate in the raffle of tasting invitation. According to voting results, each of 9 cocktails received a number of votes that were taken into account in the final voting at the event.
STAGE III – MEDIA AND PR-SUPPORT
Promosite launch was accompanied with a banner campaign in large and relevant to the target audience resources: TUT.BY, Onliner.by, Mail.ru, Rambler.ru, CityDog.by, Map.by, Dev.by, etc., as well as advertising in Facebook and Instagram. Thanks to the PR-support the project was announced in news and entertainment resources: Relax.by, Kyky.org, Travel.by, Sputnik.by, Telegraf.by, Naviny.by and others. A significant number of switches to the site was generated by reposts in social networks.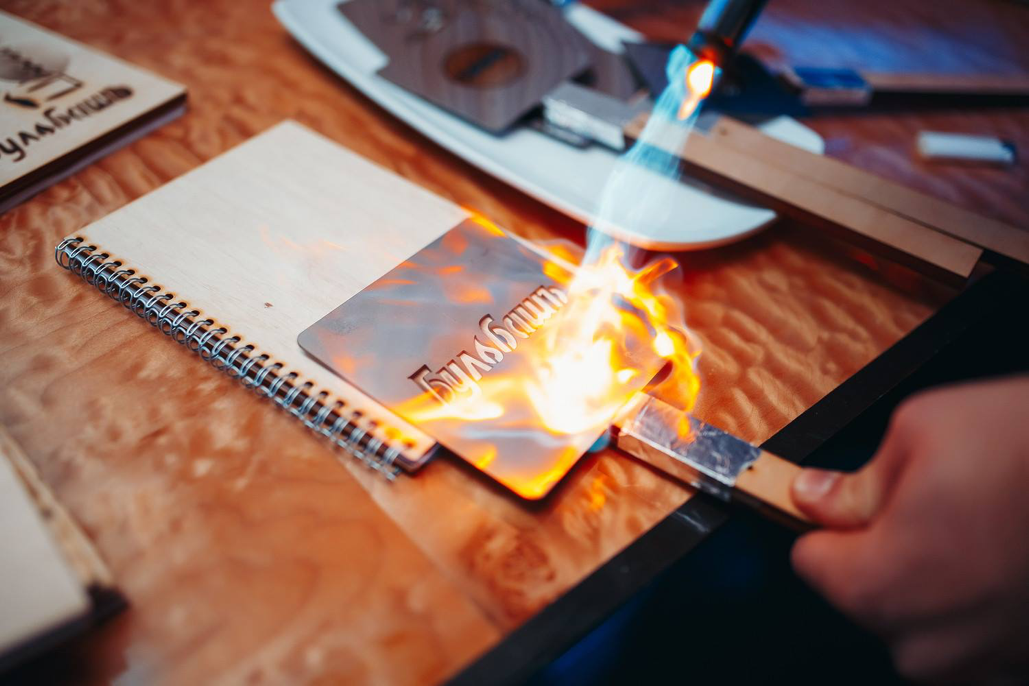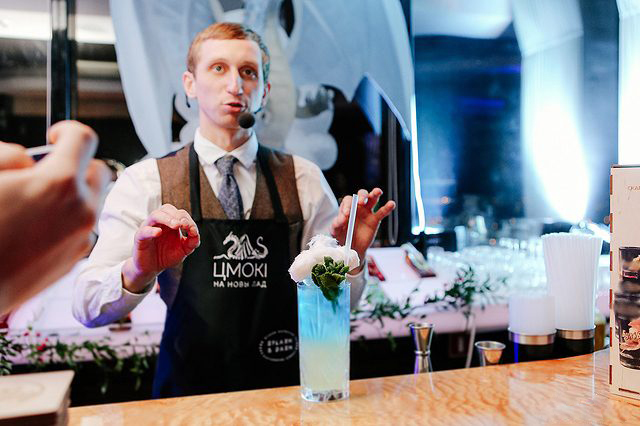 STAGE IV – COCKTAILS PRESENTATION
On March, 4, the tasting of all 9 cocktails took place at the bar "Maraskino". It was attended by about 30 members of the jury: restaurateurs, gastronomy experts and journalists. Guests of the event chose one cocktail in each element. The winners are: "Air Dragon", "Thorntail", "Dragon Treasure". It is important that the results of site voting completely coincided with the opinion of the jury, which indicates the combination of interesting serving of drinks and their taste.
In addition to tasting at the event you could plunge into the world of the Dragons: take a photo with a bright image, try to create your own Pocket Dragon, burn out a Dragon on a notepad and take the test on legends knowledge. Ethnographer Nikolai Pivavar made a digression to the origin of the legends about Dragons, and explained why the Dragons have been selected as images to inspire bartenders. This is one of the strongest and most iconic images in our folklore.
Controversial and variously interpreted, it is able to push to the most daring improvisations. This image, according to the historian, may contribute to the manifestation of such traits of Belarusians as strength and courage that often give way to our well-known "agreeableness".
Guests of the event appreciated the taste quality of the created cocktails and shared that would gladly order some of them in Minsk bars. According to a cooking show on "Belarus 1" presenter Marina Kondratieva, a representative of the jury, the bartenders offered an authentic approach to the ingredients: they used local products, making cocktails possible to be called national. Instead of whiskey or rum – traditional tincture, instead of Coke in shaker – kvass was prepared, instead of lime – they added a piece of cucumber, instead of pineapple juice – carrot juice, instead of soda – carbonated birch juice, instead of coconut syrup – cherry jam.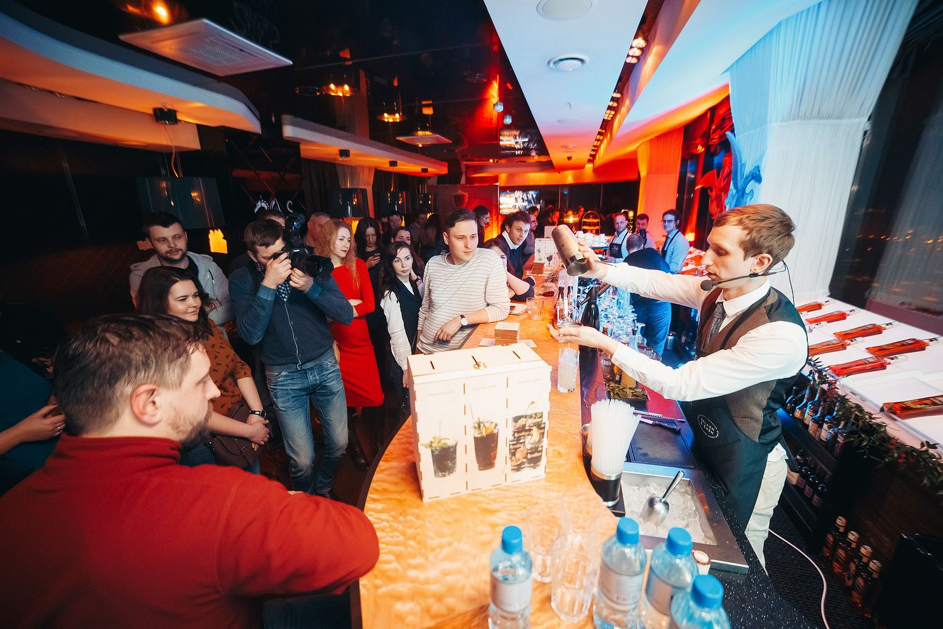 Results
About 14% of all Belarusian internet users were covered during the campaign period. PR-support provided 21 free publications in newspapers and 30 publications in social networks with the total number of engagement of 4000 likes and potential coverage of more than 100 000 users. The most important thing was that the cocktails were highly appreciated by cafes and restaurants, many of them paid attention to the line of Bulbash® bitters for the first time, which meant that Minsk citizens had a great opportunity to meet the dragon personally that summer!
1571381
unique user – cover of the ad campaign through the internet
712399
people – cover of  «livers»
24000
unique visitors, average time spent on the site – more than 2 minutes